You are looking at the reason I have no card to post today! "Muffy the Boxer" arrived at her forever home late Tuesday afternoon. It was a bittersweet day of sorts, as this marks the end of the "Missy the Boxer" era. But, Missy will live forever in my heart.
Muffy really has beautiful brown eyes...but I don't have a "Doggie Blue-Eye" Fixer!
It is amazing how we canonize our pets after they are gone. Monday evening, as we reminisced about
Missy
, I remembered her as a natural at leash training. My husband reminded me that she used to drag me down the street when we first started out. I remembered
Missy
as a "snuggle-bunny" in bed, and once again my husband reminded me of how more than once we woke up freezing because a certain "somedog" had managed to weasel all of the covers during our bitterly cold Iowa winter nights! I remember the wonderful car rides, and seemed to forget the trips that we made where I ended up with 55-pounds of Boxer butt on my lap. I remember a well-mannered lady, who never tore up a thing...except for Brady's Homecoming King crown! But I attributed that to sibling rivalry!
Muffy with Dad
As I write this short post, I have another sweet lady on my lap, and am typing this post with one hand. Obviously this will have to change, but for this evening I wouldn't change a thing. Muffy is everything for which I could have asked. She's an adorable, "puppy-kisses-in-the-face" type of baby. She's "swassy"...both sweet and sassy. In the eight hours that we have had her, she has pottied outside five times with NO mistakes! She is training me well! She has learned to sit already, and stands quietly to have her "necklace" put on...we don't call them collars at the Schach house! And she has done an amazing job at walking on the leash.
I can already tell that she is going to be another Velcro dog, and I am just fine with that! She will be my muse, just as another Boxer was for so many years. I had always promised Missy that we would have so much fun when I retired...now I will have to keep that promise with Muffy!
Although I don't have a full card to share with you, I can share with you a snippet of my Pals Paper Arts card. I really enjoyed making it, and I hope that you will join me in it's full reveal tomorrow!
Until next time...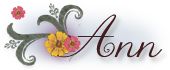 Please Click Here to Order Stampin' Up! 24/7