If bling is your thing, today's card may just fill the bill. It's easy and fun, with a layout that can be used again and again! Yummy
Cherry Cobbler
and
Night of Navy
pair up with
Whisper White
to form a patriotic trio!
The Stampin' Schach Design Tips:
Don't be random stamping dysfunctional! With one firework image from the Fourth of July set inked in Night of Navy, and another inked in Cherry Cobbler, this cheery fireworks display can be created in a matter of minutes! The key to perfect random placement is to begin near the center of your paper and move outward towards the perimeter. And remember...the design will be more pleasing if you stamp a few images off of the edge! Random isn't always really random!


Three is key! An elementary principle of design is that odd numbers are pleasing to the eye. Three stars and three Circle Fire Brads illustrate this perfectly. Try it with only two and see the difference for yourself.


When using smooth card stock, texture adds interest! With the Square Lattice Embossing Folder, it can be added in seconds.


Complete with a pleat! I make my pleated ribbon using the non-sew method with Sticky Strip and Glue Dots. Try this simple method:
1. Lay down a piece of Sticky Strip. Adhere your ribbon.
2. Form your pleat, and hold in place with a Mini Glue Dot.
3. Form the next pleat over the top of the glue dot, and just keep repeating!
This quick and easy pleating method works well with both Satin and Grosgrain ribbons.
The Fourth of July stamp set is featured in the Summer Mini catalog. Think of the adorable birthday cards one could make with stars, fireworks and firecracker candles. And if bling is not your thing, check out my Americana card using this set.
There is still time to upload your patriotic card to the Pals Paper Arts challenge. If you have not checked out the adorable cards that have already been uploaded, head on over. And there is still time to take advantage of my Retired Stamp Sale. This list is updated as sets are sold.
As always, I do appreciate your comments, so please be kind and say "hi"! And don't forget that if you ever have any questions about the techniques that I use, I am just an email away! Enjoy your holiday weekend! Until next time...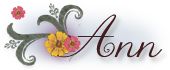 Ann's Retired Stamp Sale


Click Here to Order Stampin' Up! 24/7
Stamp Set: Fourth of July (W 118523, C 120063---Summer Mini); Inks: Cherry Cobbler (119669), Night of Navy (102977); Card Stock: Night of Navy (100867), Cherry Cobbler (119685), Whisper White (100730); Tools: Big Shot (113439), Square Lattice Textured Impressions Embossing Folder (119976), 1-3/4" Scallop Circle Punch (119854), 1-3/8" Circle Punch (119860); Glitz and Glam: Real Red Satin Ribbon (117286), Circle Fire Brads (109110)