Just a quick little peek at this week's
Pals Paper Arts challenge
card! We would love to have you join us in Challenge 49, which goes live on Thursday. Challenges are a great way to sharpen your card making skills while having fun! Although our Design Team is composed of Stampin' Up! demonstrators who showcase Stampin' Up! products in our inspiration cards, we encourage everyone to participate and to use any brand of products you wish. Be sure to check out this week's
Pals Paper Arts Artist Picks
. They are posted every Wednesday morning!
You Meet the Nicest People!
A few week's ago, I happened to stop by Helen Liu's Let's Create blog. I love dropping in to see her latest flowers, gift boxes, and origami. If you have ever visited Helen's blog, you know that her 3-D creations are exquisite! On that particular day, Helen was featuring quilled earrings that she had made for her oldest son's art and music teachers. As we were trading emails back and forth, I mentioned that when I was a teacher, I would have loved to have received her beautiful earrings! Helen emailed me back and said that she wanted to make me a pair as a belated retirement gift. I was very touched at her kindness.
Helen's package arrived today, and you can imagine my surprise when I unwrapped not one, but two, pairs of earrings, each in their own gift box. They were accompanied by a beautiful gift card, embellished with one of Helen's spectacular roses.
Her gift card was stunning, with Beautiful Wings butterflies and a gorgeous miniature rose!
Helen's gift touched me profoundly. A random act of kindness, from someone whom I only know through our blogs, brought tears to my eyes. I will treasure these quilled earrings, and I will wear them proudly. You will be able to tell who I am at the Stampin' Up! Convention, because I will be wearing Helen's creations. I know that I have said it before, but
you really do meet the nicest people through stamping!
Please help me spread the kindness by visiting
Helen's blog.
She is celebrating her blogaversary, and is offering her handmade embellishments as blog candy!
And don't forget...the end is near for these Stampin' Up! promotions!
The

$99 Starter Kit

ends June 30th. There is still time to become a member of

The Schach Pack.

Here is just a sampling of what my downline has to say:"Ann is a wonderful friend and mentor. She is very helpful at keeping me up-to-date on Stampin' Up! changes. She encourages me and supports me to help my business be the best it can be. She is also very creative and talented in her own business which inspires me to be the best I can be. Amy R." Let me help you develop your creative and business skills. Email me with your questions OR

sign up online

. My recruiting password is

stampinschach.

My personal list of Retired Stamps for Sale will be posted July 1st. If you love bargains, you will love this list!
Please join me next time for Pals Paper Arts Challenge #49! Until then...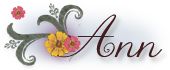 Click here to order Stampin' Up! 24/7!